Bail Out Bag
---
We took an existing survival kit and added to it for our Bail Out Bag. Keep this in the car for breakdowns in the wilderness, or stow at home for regional disasters. Add your choice of emergency rations and be ready to go.
Kit contains the following:
Firefighters Battle Axe: 15" overall, non-slip handle insulated to 10,000 volts; Impact Tool; Hose Wrench; Gas Valve Wrench; Pry Bar - Beveled on one side only from top of axe to tip of impact tool for greater strength; Leather Belt Sheath; Load Bearing up to 600 lbs.
Cold Steel Roach Belly: 8" fixed blade knife w 4" blade. Krupp stainless tool steel. Comes with nylon sheath.
Folding saw: tool steel crosscut saw for clearing brush or setting up camp. Folds closed for safety/transport.
20-Function Multi-Tool: Heavy-duty, rustproof, 420HC stainless steel. 4-1/8" closed. Needle Nose pliers/grippers; Wire Cutter; Standard and Serrated Blades; Small and Medium Screwdrivers; File/Ruler; Awl; Magnetic Bit Holder; Can Opener/Bottle Opener; Assorted bits; and Reinforced Black Nylon Belt Sheath with snap closure and an internal pocket to hold the included 1/4" socket and bit accessory set.
Lockback folding knife: 5" closed. 3 3/4" matte finish 420 stainless blade with dual thumb studs; Black tactile rubberized non-slip grip; nylon belt sheath with snap closure.
Puck sharpener: Ideal for sharpening lawn mower blades, machetes, hatchets, axe blades, shovels and spades plus a variety of other cutting and chopping tools. Easy to grip shape. Has a coarse side for quick cutting and shaping, and a medium side for final sharpening and finishing of the edge.
Lansky Blade Medic: sharpener for straight or serrated blades.
Whistle/compass/fire striker/match case/signal mirror.
Emergency survival blanket.
Magnesium and ferrocerium fire starter.
LifeStraw® Water Purification: Filters dangerous bacteria and protozoa, exceeding EPA standards for water filtration. Allows you to drink directly from lakes, rivers, or your water bottle by simply putting the lower part of the straw in the water and sipping. Filters up to 264 gallons (1,000 liters).
Flashlight: Black finish aluminum alloy construction. Belt clip, lanyard, multiple light output setting and ultra bright LED. Takes 3 AAA batteries (included).
12-hour lightsticks (2).
Eatin Tool: One piece 3Cr13 stainless construction with bead blast finish. Features: spoon/fork; bottle opener; can opener; screwdriver/pry tip; wrenches (1/2", 7/16", 3/8", 5/16", 1/4", 11mm and 8mm); and attachment clip.
Sighting compass with map lines and magnifier.
Paracord Bracelet: Contains 8 ft. of 550 paracord. Features plastic buckle to secure to wrist or pack.
Cable ties for repair/retention/shelter building (12).
Family First Aid Kit
The kit includes a handy kit-within-a-kit that can be pulled out and stashed in a pocket.
Caring for Children in the Outdoors, a comprehensive guide to first-aid for children, covering topics such as how to treat sprains, fractures, and dislocations, plus handy guides on how to administer medications and how to dress more serious wounds.
Antiseptic Wound Wipe 12 ea.
Bandage, Butterfly Closure 4 ea.
Bandage, Adhesive Fabric 1" x 3" 16 ea.
Bandage, Adhesive Plastic 3/8" x 1 1/2" 12 ea.
Bandage, Adhesive Fabric Knuckle 4 ea.
Bandage Adhesive Fabric 2" x 4.5" 1 ea.
Dressing, Gauze Sterile 4 ea.
Dressing, Non Adherent, Sterile 2" x 3" 2 ea.
Tape, 1/2" x 10 Yards 1 ea.
Cotton Tip Applicator 4 ea.
Gloves, Nitrile (Pair)
One Hand Wipe
Moleskin, Pre Cut & Shaped 14 ea.
Bandage, Elastic 2" 1 ea.
Instant Cold Pack 1 ea.
Thermometer, Disposable (96°F to 104.8°F) 2 ea.
Scissors with Blunt Tip
Splinter Picker/ Tick Remover Forceps 1 ea.
Safety Pins 2 ea.
Triple Antibiotic Ointment 4 ea.
Ibuprofen (200 mg) 6 ea.
Acetaminophen (500mg) 6 ea.
Antihistamine (Diphenhydramine 25mg) 3 ea.
Insect Repellant and Bite Treatment; Natrapel 8 hour Tick & Insect Repellent Wipe 2 ea.
After Bite Kids Tube 1 ea.
All items are contained in a 2000 cc black nylon backpack: padded back panel, a large main compartment plus a front pouch, both with organizational gear pockets, M.O.L.L.E. attachments, adjustable hip and sternum straps, pouch for Camelbak or other hydration bladder and compression straps to lock down the load.
Substitutions of brand or style may occur depending on available products.
Allow 4 weeks for delivery. We build these in shop.
MSRP of all items $375 if purchased separately.
$250.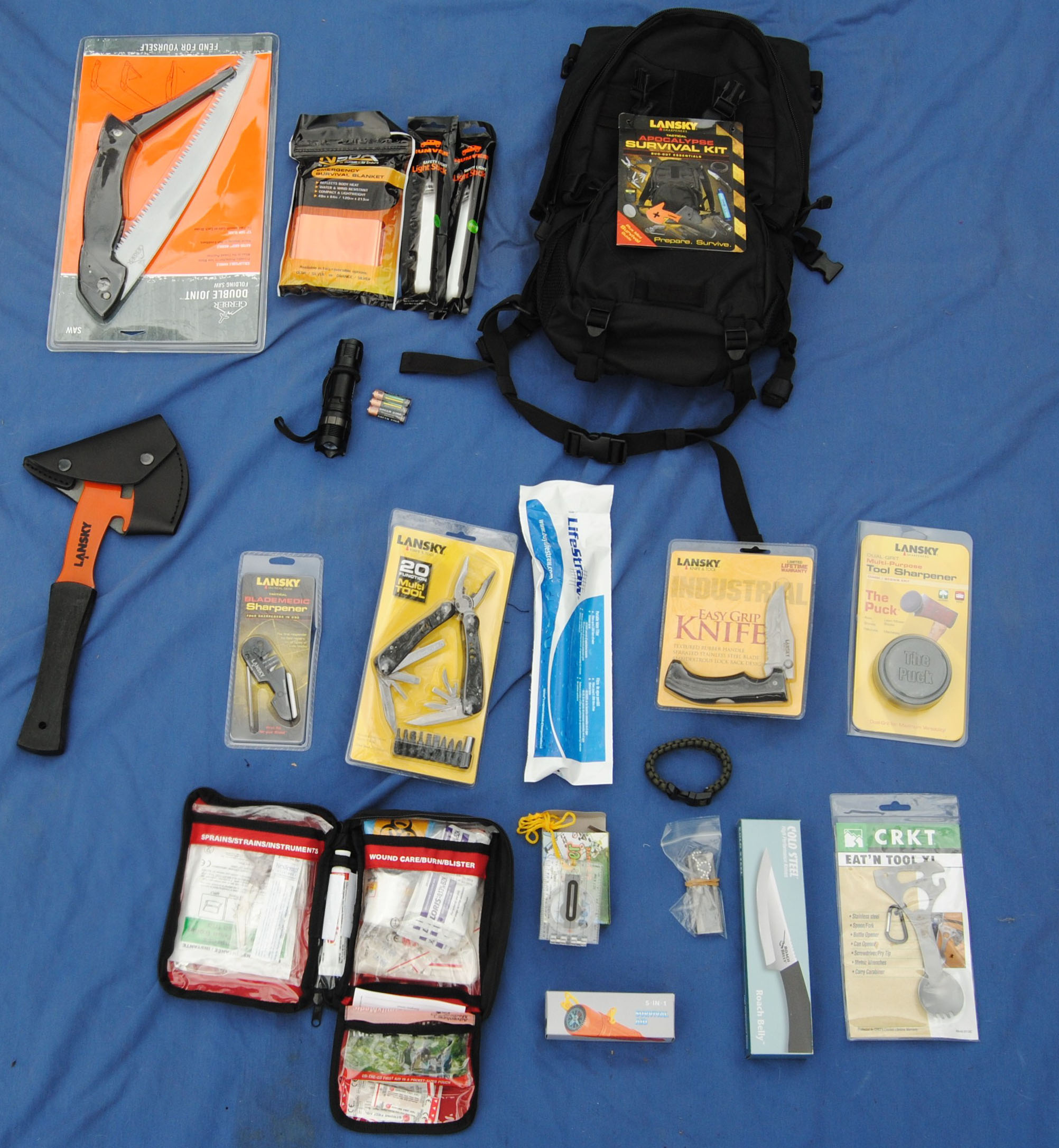 Item out of stock. Please check back later.